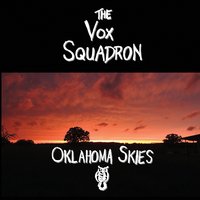 Oklahoma Skies

CD Review:
By Bill Martin
Most of us mere mortals are fortunate to have one good gift getting us through life that hopefully results in happiness, financial security and makes this world a better place. But when you are the head surgeon at a hospital with patients putting their lives in your hands you would think it would be enough.
When Dr. Jack Myers lays down his scalpel, he sometimes unleashes a lot of frustration, hopes and dreams by being a very good composer, guitarist and vocalist.
His Tahlequah-based band Vox Squadron has released its second album, Oklahoma Skies. It is a follow up to their initial album, Crashing Down released four years ago. (See CD review, Blues News September/October 2015). There have been very few records I've listened to and enjoyed as much as Oklahoma Skies and Crashing Down. That's how much I love this band.
Oklahoma Skies continues the journey launched from the first album, but the new one also ventures more into a blues zone, while the boys continue an uncharted journey as real rockers.
This is also an even tighter, better group, than it was a couple of years ago. Aaron Lee, who had just switched from drums to keyboards (also backing vocals) when Crashing Down was released, reminds me of back in the day watching the blossoming of a Jesse Aycock (Higher Education and Hard Working Americans) and Beau Roberson (Pilgrim). Today Jesse can play guitar and lap steel with anyone, while it is no accident Beau received the 2018 Blues Choice Award for Vocalist of the Year. Throughout Oklahoma Skies Aaron gives this album a richness and fullness filling me with pride as he plays the B-3 organ and keyboards.
A wonderful addition is Jacob Martin on drums who joined the band two years ago and adds power, sometimes aggression and a dose of funk to the group. Then there is the rock on bass, veteran Richard Wood, who joins Jacob to magically drive the rhythm. Richard also designed the oh-so-cool owl band logo as well as directed the art, while Aaron designed the attractive CD package.
Vox Squadron won the 2018 Ozark Blues Society of NW Arkansas' Blues Challenge and Jack specially pinned one of my favorite songs on their new release for their appearance in the 2019 International Blues Challenge. It was during this time the band recorded Oklahoma Skies at historic Sun Studio in Memphis.
I Do simply has a great beat with intriguing lyrics. "Rustle up sixpence to pass for tithe, Ain't nobody looking from across the aisle. Maybe you don't believe him. But I Do."
Another favorite is the title track. "Maybe we were designed to collide and drift apart, and then back again like the falling leaves. So I stare time away, with these daydream eyes, and this lonesome wistful sigh. You know it's all beneath, wrapped up nice and neatly. A brilliant perfume ray of summer shine in the Oklahoma Skies."
The vocals on So Do I are filled with anguish and after four-plus minutes the tempo increases as the band transcends into an aggressive, if not angry instrumental.
Change Change was written by James Townsend and arranged by Jack. Jack also penned the other dozen songs on this record. Change Change has a nice picking guitar for the first three minutes before the axe is cranked up a bit with a thick, heavy bass. Any old hippy should love the lyrics such as, "I was looking into the stars at night. Swear I felt cosmic rain. Pink rain down upon my being. Maybe it's just my brain. I've changed, I've changed. My minds been rearranged."
New Shoes is the bluesiest song on the album with an extended cool, dirty Gibson solo.
Crashing Down (Slight Return) is a remake of the title tune from the band's first album. While similar, one could say they switched from regular gasoline to high octane the second time around. "Oh years for days. The fault line strains. The backbone sways. The wish comes crashing down."
Irish Green reminds me of why I so often immerse myself in music. It can be a way of dealing with regret. "Hands of time. If they could grab the wheel, spin it left to make it right. Feels improbable this thing we've stumbled on. But it's coming 'round. Feels alright if for a minute. Fleur delis. This autumn dream. Returns to be my Irish Green."
This tune is representative of the sincerity, emotion and feeling in Jack's performance throughout the album.
The instrumental Bastard In A Blanket closes out this gem. It is a very nice piece that seems to say, I've had my say, I've unleashed a few things and now I feel better.
Oklahoma Skies is available at CDbaby.com and to stream on all digital platforms.
–BILLY AUSTIN MARTIN–